Imagine stepping from your private ocean-front Beach Resort accommodations, to be greeted by cloudless skies, sparkling turquoise waters, and white sandy beaches of Panglao Island Bohol, stretching to infinity.
As a guest of Panglao Tropical Villas, this image of paradise becomes your daily reality.
If you are looking for a peaceful setting amid swaying palms and white sand beaches, retreat to Panglao Tropical Villas! YES! We are LOCATED DIRECTLY ON THE BEACH!


Relax at our pool as you enjoy a great view of the Philippines sunset.
Compared to most luxury Panglao Resorts, Panglao Tropical Villas reflects the contemporary lifestyle and easygoing attitude of Bohol.
Panglao Tropical Villas is a place where guests can truly feel at home.
It's an affordable resort that's anything but stuffy.
Ideally located near Alona Beach In Panglao Island, Bohol, Philippines, Panglao Tropical Villas Beach Resort & restaurant welcomes guests to an enclave of barefoot elegance nestled along the largest stretch of secluded beachfront in Panglao Island. Along with its island-inspired accommodations and oceanfront dining, you will discover an endless variety of resort activities ideal for romantic getaways, family vacations, and groups seeking a distinctive Beach setting for meetings, weddings, and special events.

Stroll along the shore on our secluded private beach.
Spend an afternoon swimming through the warm waves of the Bohol Sea, or sip tropical cocktails by our swimming pool.
At Panglao Tropical Villas Beach Resort, our friendly staff is ready to personalize your Bohol Beach vacation with the activities and amenities you care about most.
From pampering treatments at our massage area to Snorkeling and Scuba Diving excursions!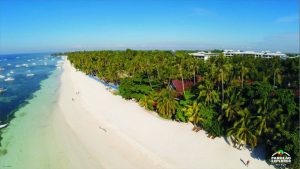 See Sea Turtles up close, we will ensure your stay in Panglao Tropical Villas offers the perfect blend of adventure and relaxation to make your vacation a memorable one.
Amenities Include:
White sand private beach
Fun-filled Island hopping tours
Bohol Scuba Diving Center on Property
Dolphin watching tours
Unforgettable scenic views
Van Tours of Beautiful Historic Bohol
World Class PADI Diving centers close by
FREE TRANSPORTATION TO AND FROM PIER (MIN 3 NIGHTS STAY @ VILLA KIAM,VILLA VIDAS AND VILLA ANGELUS) and ( MIN 5 NIGHTS STAY @ LA SOPHIA,PLAYA,LA ABELLA AND HUTS-SUITE ROOMS.)
Motorcycle Rentals Available Upon request
Van Service Available
Rooms or Villa / House Rentals by the Day or Week
Affordable Rates
Full-size adult Pool with Jacuzzi
Large Kiddie Pool
All Bedrooms fully air-conditioned
Showers with hot water
FIBER Internet and Cable TV available
Beautiful fully furnished Villas with full kitchen
Massage and Manicure Services Available Upon request